Battle of Davis Bridge
Location:
Essary Springs Road
Pocahontas, TN 38061
Phone:
(731) 658-6554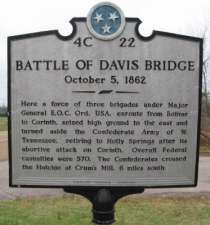 Van Dorn pulled off the unthinkable, extracting his troops from sure defeat. This small, fierce battle, Oct. 5, 1862, played an important role, allowing the Confederate army to remain a significant force and prolonging the war.
Davis Bridge was a small yet fierce battle on October 5, 1862, and served an important role in the Corinth Campaign. Had it been a major Union victory, the battle had the potential to drastically affect the war in the West, but a successful Confederate stand allowed the Southern army to remain a significant force in Mississippi, which assured that the war in that theater would continue for many more months.

On October 5 Confederate Major General Earl Van Dorn's troops were retreating from Corinth, having lost a fierce struggle with U.S. General Rosecrans who was attempting to follow up his victory. Van Dorn's retreat would carry him across the Tuscumbia River at Young's Bridge, across the Hatchie River at Davis Bridge, and then to the main Ripley Road. From there, the army would march to Ripley and move to safety at Holly Springs.

Grant had other plans in mind; he had sent another Federal force, commanded by Major General Stephen A. Hurlbut, south from Bolivar to block the crossing at Davis Bridge and trap the Confederate force between two rivers. With the main Confederate force in Mississippi destroyed, Grant would then have a clear path to Vicksburg.

Van Dorn knew the dire situation and scrambled for options to escape. Throughout the afternoon of October 5, he continually fed his brigades forward toward the bridge and faced three close calls, only to have reinforcements arrive at exactly the right moment. Nightfall ended the engagement with Union casualties reported at roughly 570 and estimates of Confederate casualties being less than that number.

Van Dorn had pulled off the unthinkable. He had extracted his battered army from the convergence of two Federal columns, and effectively kept the war alive in the Mississippi Valley. His army would go on to constitute the core of the army that defended Vicksburg.


Tools
Key Facts
Confederates under command of Van Dorn, retreating after a loss in Corinth, Miss., were forced to battle for their lives--and for control of the bridge.
Related