Ulysses S. Grant
Affiliation:
Union
Rank:
Union General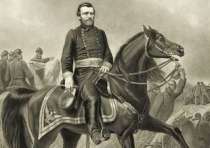 Ulysses S. Grant was born in Point Pleasant, Ohio, and graduated from the United States Military Academy at West Point in 1843.



When the Civil War began in 1861, he jumped at the chance to volunteer for military service in the Union army. His first command was as the colonel of the 21st Illinois Infantry, but he was quickly promoted to brigadier general in July 1861, and in September was given command of the District of Southeast Missouri.



His 1862 triumphs at Fort Henry and Fort Donelson in western Tennessee won him the nickname "Unconditional Surrender." However, when a surprise attack by Confederate forces at Shiloh yielded devastating casualties during the first day's fighting, President Abraham Lincoln received several demands for Grant's removal from command. Nevertheless, Lincoln refused. The following day, Grant's Army, bolstered by troops under Maj. Gen. Don Carlos Buell, fended off Confederate advances and ultimately won the day.



Grant's hard-won victory at Vicksburg, Mississippi, in May 1863 was a strategic masterpiece. Coupled with the Northern victory at Gettysburg, the capture of Vicksburg marked the turning point in the war. It also made Grant the premier commander in the Federal army. Later that same year, Grant was called upon to break the stalemate at Chattanooga, further cementing his reputation as a capable and effective leader.



In March 1864, President Lincoln elevated Grant to the rank of lieutenant general, and named him general-in-chief of the Armies of the United States. Making his headquarters with the Army of the Potomac, Grant was determined to crush Robert E. Lee and his vaunted Army of Northern Virginia at any cost. The battles of the Wilderness, Spotsylvania, Cold Harbor and the subsequent siege of Petersburg effectively destroyed the rebel army, leading to the fall of Richmond and Lee's surrender at Appomattox Court House.



After the war, President Andrew Johnson named Grant Secretary of War over the newly reunited nation. In 1868, running against Johnson, Ulysses S. Grant was elected 18th President of the United States. He died of cancer at age 63.
Tools
Key Facts
Known as "Unconditional Surrender" Grant after victories at Forts Henry and Donelson
Victory at Vicksburg was strategic mastpiece
Became general-in-chief of the Armies of the U.S. in 1864
Elected 18th President of the United States in 1868
Related