John C. Brown
Affiliation:
Confederacy
Unit:
Third Brigade, Third Tennessee Infantry Regiment
Rank:
General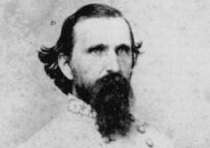 John Calvin Brown, Confederate general and governor, was born January 6, 1827, in Giles County to Duncan and Margaret (Smith) Brown. After graduating from Jackson College in Columbia, Brown practiced law in Pulaski in 1848.



When the war began, he enlisted as a private in the Confederate army. Then he became colonel of the Third Tennessee Infantry Regiment. He commanded the Third Brigade of General Simon Buckner's division at Fort Donelson. When the fort surrendered on February 16, 1862, Brown was captured and imprisoned at Fort Warren, Massachusetts, for six months.



After his release, Brown became a brigadier general with General Braxton Bragg in the Army of Tennessee. He fought at Chickamauga and Missionary Ridge. For his heroic efforts in the Dalton-Atlanta campaign, Brown was promoted to major general in August 1864. He was severely wounded November 30, 1864, in Franklin, Tennessee,.

After the war Brown resumed his Pulaski law practice. President of the 1870 Constitutional Convention, Brown was elected Tennessee's 19th governor and reelected in 1872. Formerly a Whig, Brown became leader of the Democratic party's Bourbon faction.



When Brown took office in 1871, he faced an overwhelming state debt of $43 million (bonded) and a floating debt of $3 million. In the early 1870s, Brown and the state legislature reduced the state debt to $20 million, paid the large floating debt, and reestablished the state's credit.



After serving as governor, Brown ran for the United States Senate, but lost to Andrew Johnson. and returned to his law practice in Pulaski.



Brown married twice: Anne Pointer of Spring Hill, who died in 1858, and Elizabeth "Bettie" Childress of Murfreesboro, who became the state's first lady. While in Pulaski the Browns lived in a Greek Revival mansion now on the campus of Martin Methodist College. They had four children.



Later Brown served as receiver and then president of the Texas Pacific Railway Company in 1888 and in 1889 president of the Tennessee Coal and Iron Company. Brown died August 17, 1889, at Red Boiling Springs and was buried at Pulaski.
Tools
Key Facts
Captured at Ft. Donelson; wounded twice; saw action at Chickamauga, Chattanooga; heroic effort in Atlanta-Dalton campaign
Led 1870 Constitutional Convention; Governor of Tennessee; reestablished state's financial credit.
Related