Cragfont and Union Occupation
Location:
300 Cragfont Rd.
Castalian Springs, TN 37031
Phone:
(615) 452-7070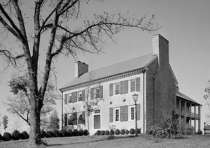 The finest mansion house on the Tennessee Frontier, Cragfont was known as "The Grandeur on the Frontier." Once used to house Union officers, it is now a museum.
During the Civil War, Cragfont in Sumner County was the home of Maj. George W. Winchester (1822-1878), his mother, Susan Winchester, his wife, Malvina H. Gaines, and their children. Their surviving letters and diaries paint a vivid portrait of life during occupation.

When war began, George Winchester remained at Cragfont. After his son Napoleon was wounded at Shiloh in April 1862, George went to the Confederate lines to check on his condition and decided to join the army as well. He served as a brigade quartermaster under Gen. Daniel S. Donelson and later as adjutant general for Gen. William B. Bate, who also was from Sumner County.

While the Winchester men fought, family and slaves operated the plantation. In 1863, the 1st Kentucky Cavalry (U.S.) under Col. Frank Wolford descended on Cragfont and the surrounding area. Union officers stayed at the house. A Winchester son recalled: "I felt I should choke with restrained indignation, when I saw those men, the implacable enemy . . . stretched upon the sofa, and lolling in the chairs which only a night before had been occupied by friends from Morgan's command."

The area around the house was stripped of its oak, ash, hickory, and beech trees to build quarters for soldiers. Troops made camp in the area between the house and the main road and confiscated horses, cattle, and crops. Overnight the slave quarters were emptied; Malvina was arrested and escorted to Nashville to take the Union oath of allegiance.

In 1863, Winchester was captured at Missionary Ridge and imprisoned, along with his son Napoleon, at Johnson's Island in Lake Erie until the war ended. His mother, Susan, died in December 1864. Upon returning to Cragfont, pressing financial obligations forced Winchester to sell the home. He moved his family to Memphis, where he practiced law until his death in 1878.
Tools
Key Facts
Owned by Maj. George Winchester who served with the Confederate Army along with his son Napoleon.
Occupied by Union soldiers beginning in 1863.
Sold at the end of Civil War because of Winchester's financial problems.
Related