Fort Dickerson and Knoxville
Location:
Fort Dickerson Road
Knoxville, TN 37920
Phone:
(865) 525-7461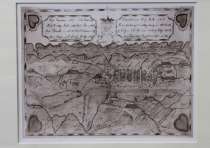 The fort is one of 16 earthen forts and battery positions that protected Knoxville during the Civil War. Fort Dickerson is said to be the best preserved of all Civil War earthworks
By late 1863, the Union army had turned Knoxville into one of the most fortified cities in the country, surrounded by 16 forts and battery emplacements, as well as miles of earthworks and two dams that flooded the area immediately north of Knoxville. Three of these forts, Forts Dickerson, Higley, and Stanley, loomed over the Holston (now Tennessee) River.

From 1863 to late 1864, Capt. Orlando M. Poe gathered civilians and slaves to help his 300-man engineering battalion in create these works, as Gen. Ambrose Burnside blocked the Confederate approach by Gen. James Longstreet in late November 1863.

As Confederate infantry approached on the river's north side, Gen. Longstreet sent 4,000 cavalry under Gen. Joseph Wheeler through Maryville and Blount County to take control of the Holston River heights. However, 1,500 Federal cavalry under Gen. William P. Sanders blocked Wheeler's troops, slowing their advance, and allowing Federal troops time to prepare defenses on what was to become Ft. Dickerson.

Upon arrival at the base of the ridges the Confederate cavalry found the slope too steep and the defenders too numerous for success. After two tentative attacks, they withdrew and rejoined Longstreet.

On November 25th, Confederates attacked earthworks on Armstrong Hill, adjoining the site of the future Fort Higley, initially driving the Federals from their trenches. Union troops rallied and forced the Confederates down the hill and on to their original position on Cherokee Heights.

A diversionary attack also took place in this area on the 29th in conjunction with the attack on Fort Sanders.

The defeat of the Confederates in November 1863 as they sought a weakness in the Union defenses was, in no small part, due to Capt. Poe's design and construction of Knoxville's extensive fortifications.


Tools
Key Facts
Fort Dickerson was named for its first commander, Capt. Jonathan C. Dickerson of the 112th Illinois Volunteer Mounted Infantry. A 30-year-old carpenter, he played a significant role in Knoxville during the siege of the city in
Related