Battle of Nashville Monument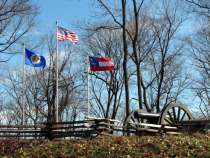 This monument commemorates the battle of Nashville, in which Confederate forces under General Hood reached their furthest advance in their failed attempt to retake Nashville.
The 1926 statue by Giuseppe Moretti has recently been restored and rededicated on a small tract of the battlefield where the clash of Dec. 15-16, 1864, took place. Somewhat unusual in that it was designed to memorialize both Union and Confederate soldiers, this was also a peace monument to honor the Americans who fought and died in World War I.
Tools
Key Facts
This monument is in honor of both union and confederate soldiers who died in the two-day battle
Several hundred spectators witnessed the rededication of the refurbished Battle of Nashville Monument at its new location in 1999
Related