Benjamin Franklin Cheatham
Affiliation:
Confederacy
Unit:
Army of Tennessee
Rank:
General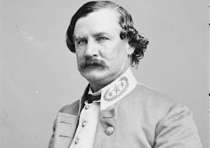 Confederate General Benjamin F. Cheatham was born on a plantation near Nashville on October 20, 1820. Cheatham served in the Mexican War as a captain in the First Tennessee Regiment and later as colonel of the Third Tennessee. He participated in the California gold rush, returning home in 1853. Before the Civil War, he farmed, served in the Tennessee militia, and was active in Democratic politics.



When Tennessee seceded, Cheatham won an appointment in the Provisional Army of Tennessee, then was commissioned a brigadier general in July 1861. His actions at Belmont in November 1861 won him a promotion to major general in March 1862. For most of the war Cheatham led a division composed largely of Tennessee regiments.

Controversy also dogged Cheatham's Confederate career. He clashed repeatedly with General Braxton Bragg, commander of the Army of Tennessee (June 1862-December 1863). Bragg regarded Cheatham as incompetent and sought unsuccessfully to have Cheatham removed from command. The relationship degenerated after Bragg accused Cheatham of drunkenness at Murfreesboro. After Chickamauga, Bragg consigned Cheatham to a smaller division.



One of Joseph E. Johnston's first acts upon replacing Bragg as army commander was the restoration of Cheatham's Tennessee division. The reconstituted command distinguished itself during the Atlanta campaign.



Debate still swirls about Cheatham's actions near Spring Hill on November 29, 1864. His corps was in the advance, but he failed to attack the Federals at Spring Hill or block the turnpike between Columbia and Franklin. As a result, after nightfall the Union army marched unimpeded northward along the pike while Confederate units encamped nearby. At Franklin the next day, Cheatham's corps bore the brunt of the fighting and suffered appalling casualties. Cheatham fought at Nashville two weeks later and retreated afterwards; he surrendered with Johnston in North Carolina.



After the war Cheatham farmed in Coffee County, lost an 1872 congressional race, and served as superintendent of the state prison system. He was postmaster of Nashville at the time of his death on September 4, 1886.
Tools
Key Facts
Repeatedly clashed with Gen. Braxton Bragg, who sought to have him removed.
Distinguished service in the Atlanta campaign, but questionable decisions at Spring Hill.
Bore the brunt of the fighting at Franklin.
Related