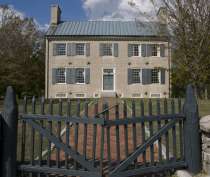 The famous historic homes and landscapes of Castalian Springs were deeply affected by the Civil War and Reconstruction.
From 1862 to 1865, a federal garrison made camp about one-half mile southwest of Wynnewood, the National Register-listed log tavern and home located at 210 Old Highway 25. After the war, the Wynne family asked the federal government for $6,540 in damages, but the claim was denied.

The National Register-listed Cragfont plantation, located at 200 Cragfont Road, was home to the Winchester family and about 100 African American slaves. Cragfont never recovered from wartime damage and the economic impact of emancipation; the Winchesters sold the place in 1867.

Along Cairo Lane, near the old Cumberland River port of that name, an African American rural community developed. The National Register-listed Cairo Rosenwald School is now a community center and museum.

Confederate Gen. William B. Bate, who later served as both governor and U.S. Senator, was from Castalian springs. Bledsoe Creek State Park provides recreational, picnic, and camping facilities.
Tools
Key Facts
Site of Federal garrison
Historic sites include Wynnewood tavern, Cragfont, Cairo Rosenwald School
Related