Chattanooga National Cemetery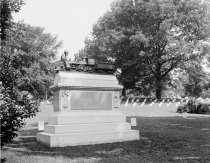 More than 12,000 Civil War soldiers are buried there. A highlight of the cemetery is a memorial to Andrews Raiders with a replica of "The General," the locomotive they stole in Georgia.
On Dec. 25, 1863, Maj. Gen. George H. Thomas, called "The Rock of Chickamauga," ordered the creation of a national cemetery in commemoration of the Battles of Chattanooga, Nov. 23-27, 1863.

The site Thomas selected was atop a hill that faced Missionary Ridge on one side and Lookout Mountain on the other. Gen. Grant had made his headquarters on the hill during the four-day battle for Lookout Mountain.

Chaplain Thomas B. Van Horne, put in charge of the cemetery's development, suggested a design that took into account the rocky terrain and included flowering shrubs, evergreens and other trees to replace some of the dense oak forest that had been cut down during the battles. Each section has a central monument, surrounded by plots for officers, with the graves of enlisted men in concentric circles around them. In 1867, it was designated Chattanooga National Cemetery.

By 1870, of the 12,800 interments, 4,189 were unknown. The dead included men who fell at Chickamauga, Missionary Ridge and Lookout Mountain as well as reinterments from the surrounding area, including locations along Gen. Sherman's march to Atlanta.

In addition to Civil War veterans, there are 78 German prisoners of war buried here, with a monument to commemorate the POWs.

Chattanooga National Cemetery was listed in the National Register of Historic Places in 1996.

Among the many monuments is the Andrews Raiders Monument, erected by Ohio in 1890. It is unique, with its granite base topped with a bronze replica of "The General," the Civil War-era locomotive famous for The Great Locomotive Chase of 1862. Members of Andrews Raiders were among the first recipients of the Medal of Honor.
Tools
Key Facts
Created after the Battles of Chattanooga, on the site of Grant's headquarters during Battle of Lookout Mountain
Each section has a central monument with enlisted men buried in circles around officers
Seven Medal of Honor are buried here
Related