General Longstreet Museum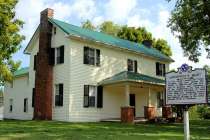 Also called Longstreet's Billet, the Nenney House served as the headquarters for Gen. James Longstreet, whose Army of the Tennessee was tasked with attempting to retake Knoxville from Union forces.
General James Longstreet established his headquarters in the Nenney Homestead in Russellville, TN during the harsh winter of 1863 - 1864. Gen. Kershaw, one of Longstreet's brigade commanders, had his own headquarters at the Taylor family plantation, just a half mile away.



Longstreet, once one of Robert E. Lee's most trusted commanders, and his troops played a key role at Chickamauga, but an attempt to oust Braxton Bragg from command led to his being detached from the Army of Tennessee and sent to retake Knoxville from Gen. Burnside.



Longstreet's Siege of Knoxville failed, and he took his troops north toward Virginia, stopping to establish his winter headquarters in Russelville when weather prevented further travel. Longstreet's men fought the Federal Army at Bean Station, and eventually made it to Virginia the following May.



Today, visitors can explore the actual historic home showcasing an authentic Civil War era communications center complete with a Civil War telegraph and period furnishings. A walk through the General Longstreet Museum will put you at the heart of the strategic efforts of James Longstreet, one of the most powerful generals in all of the Confederacy.
Tools
Key Facts
Winter headquarters of Confederate Gen. James Longstreet after his failed attempt to retake Knoxville in November 1863
Longstreet's men fought at nearby Bean Station in December 1863
Related