Cherry Mansion
Location:
265 W. Main St.
Savannah, TN 38372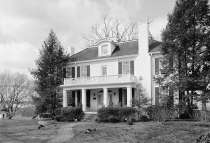 Built by slaves along the banks of the Tennessee River, the Cherry Mansion is the oldest dwelling in Savannah. It was the home of William H. Cherry, a Union supporter. Prior to the Battle of Shiloh, the mansion served as the headquarters of U.S. Gen. Ulysses S. Grant. On the morning the battle began, April 6, 1862, Grant heard the distant sounds of battle and told his staff: "Gentlemen, the ball is in motion." He left immediatley on a Union transport for the battlefield, which is about nine miles southwest. The house is privately owned but can be viewed from the sidewalks where the interpretive markers are located.
Tools
Key Facts
Gen. Grant was here when the battle at Shiloh started.
The Cherry family was divided in their loyalties.
Related