Parker's Crossroads
Location:
I-40 & Hwy. 22, Exit 108, 20945 Hwy. 22 North
Parker's Crossroads, TN 38388
Phone:
(731) 968-1191
Website:
www.parkerscrossroads.org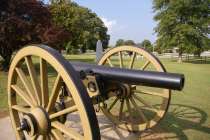 Nathan Bedford Forrest led his cavalry brigade on a raid to destroy tracks and bridges in West Tennessee, Dec. 15, 1862 – Jan. 3, 1863. On December 31, 1862, They narrowly avoided capture at Parker's Crossroads. Forrest successful West Tennessee raid forced Grant to move his supply base back to Memphis.
A Confederate cavalry force under Gen. N.B. Forrest was nearly trapped here by converging Union forces Dec. 31, 1862. Forrest was returning from a raid during which he destroyed Union railroad lines carrying supplies for the building Federal offensive against Vicksburg. Union pursuers caught up with him at Parker's Crossroads.