Battle of Murfreesboro
Location:
1 Public Square
Murfreesboro, TN 37130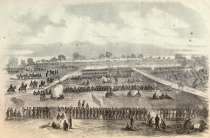 On July 16, 1862, Confederate Col. Nathan Bedford Forrest led his cavalry into Murfreesboro successfully attacking three different Federal detachments. Union sharpshooters in the courthouse here held out until Forrest's men set fire to the first floor. The raid netted the Confederates more than 1,000 prisoners. Forrest's reputation for surprise and daring was established with this raid.