Battle of Spring Hill: Blocking the Columbia Turnpike
Location:
5700 Main Street
Spring Hill, TN 37174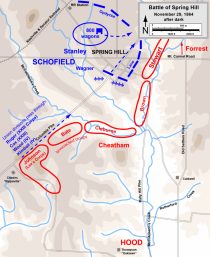 Confederate Gen. John Bell Hood hoped to block the road in front of you—the Columbia Turnpike—and cut off Union Gen. John M. Schofield's force at Columbia from a larger Federal army to the north at Nashville. Confederate divisions under Gens. William B. Bate and Patrick Cleburne neared the turnpike about nightfall on November 29, 1864, and encountered the leading elements of Schofield's troops at and around the pike. While Cleburne engaged in an intense firefight closer to Spring Hill, Bate advanced across this field.