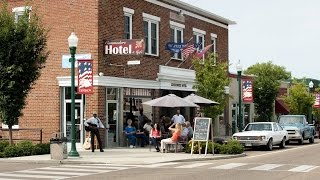 We are the country's hippest historic small-town hotel. On Friday Nights, we are the place to be - with live music in our intimate dining room, and the best cuisine you'll find in a small town in Tennessee. Hand-picked musicians bring world-class music to this small restaurant nestled in this 1930s-40s downtown square. Warm smiles and service offer to do what it takes to please you – while the wonderful food fills your belly and the music touches your soul.
Then retreat to your comfy room for a relaxing night of peaceful slumber. Awaken to find fresh brewed coffee and staff waiting to prepare a hot breakfast for you. Then explore our small shops and pristine scenery - at your own pace. (No traffic jams here!) You are invited to relax, re-connect, and rejuvenate. Perfect for romantic getaways, outdoor adventures, or restorative retreats, this idyllic hideaway is conveniently located between Nashville and Memphis, and is accessed by driving thru scenic, wide-open spaces. Originally built in 1939, this historic hotel has been lovingly restored to showcase its unique beauty while offering modern amenities.
---
Tennessee Vacation eGuide
The 2016 eGuide gives you instant access to Tennessee's irresistible attractions and destinations. Peruse venues online, then put in your order to get a free guide delivered to your doorstep.
---
---
View on map
1/3 Mile West of the Intersection of TN-13 and TN-100/TN-412 in Linden, TN. From I-40, to Exit 143, go South on TN-13 for 23 miles. From Columbia, go West on TN-412 for 50 miles. From Jackson, go East on I-40 to exit 143 (see above), or our favorite route: take I-40 to exit 93, South on TN-152 to TN-412 East for 39 miles.
---
---
---
---
---