41st Tennessee Infantry regiment
Provided by:
Historic Civil War flags provided by the Tennessee State Library and Archives and the Tennessee State Museum.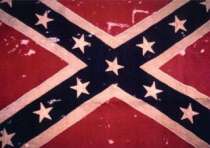 Company H, organized November 1861, was made up of men primarily from Brick Church, Cornersville and other Giles County communities.



The 41st fought at Fort Donelson, with two killed, six wounded and 26 missing. They surrendered with the fort and were sent to different northern prisons. After the Vicksburg prisoner exchange, the 41st Tennessee was placed under the command of Brigadier General John Gregg's Brigade, along with the 3rd Tennessee, and reported 526 effectives.



The regiment fought at Raymond and Jackson, Mississippi and exchanged valuables for money at Yazoo City shortly before the fall of Vicksburg.



After being transferred to the Army of Tennessee in September 1863, the 41st suffered severe casualties at Chickamauga. Turned over to Maney's Brigade, they fought at Missionary Ridge, then retreated to Dalton, Georgia, with only 201 effectives.



They fought every day as Gen. Joe Johnston retreated to Atlanta. In June 1863, the 41st was transferred to Strahl's Brigade and headed across Alabama and north to Tennessee as part of John Bell Hood's doomed plan to recapture Nashville. They participated in the bloody battles of Franklin and Nashville and retreated through Giles County around Christmas 1864.



The remainder of the regiment surrendered with the Army of Tennessee at Salisbury, N.C.



It was written of the regiment, "The 41st Tennessee was ever ready to do, or to attempt to do, whatever was ordered, whether to dig a ditch or cross one in the face of the enemy, to charge a battery or go on picket. It lost more men on picket than in the charge. Its dead are laid away in unmarked graves in Louisiana, Mississippi, Alabama, Georgia, and Tennessee, and in the prison cemeteries of Camp Douglas, Camp Morton, Rock Island, and Camp Chase."
Tools
Key Facts
Mostly men from Giles County
Captured at Fort Donelson, imprisoned, exchanged, transferred to Army of Tennessee
Suffered severe casualties at Chickamauga, fought at Missionary Ridge
Fought at Franklin and Nashville
Related