18th Tennessee Infantry, St. John Guards
Provided by:
Historic Civil War flags provided by the Tennessee State Library and Archives and the Tennessee State Museum.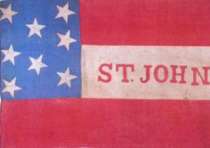 Company D, Cannon County, was sent to Bowling Green, Kentucky, under General Buckner; fought at Fort Donelson, was captured and later exchanged at Vicksburg.



After being reorganized at Jackson, Mississippi, the 18th fought at Stone's River and at Chickamauga, where 144 men were killed or wounded; they later fought in the Battle of Missionary Ridge.