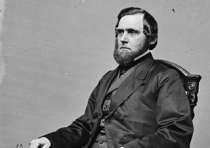 Henry Emerson Etheridge, important West Tennessee Whig politician and Union loyalist, was born in Currituck County, North Carolina, in 1819. In 1833 the family moved to Weakley County, Tennessee. Etheridge became a lawyer with a practice in Dresden, the county seat, but his admiration for Kentucky Senator Henry Clay soon drew him into Whig politics.



He served one term in the Tennessee House of Representatives and three terms in the U.S. House of Representatives. When the Civil War began, Etheridge remained loyal to the Union. As his third term was ending in March 1861, he was elected clerk of the House of Representatives, where he served until December 1863. Although he staunchly supported the war to preserve the Union, Etheridge broke with President Abraham Lincoln over the issue of emancipation. His position placed him among the Conservative Unionists of Tennessee.



In 1867, Etheridge emerged as the gubernatorial candidate for the Conservative Unionists in Tennessee. The candidate campaigned against most of the acts of the William G. Brownlow administration and for the restoration of voting rights for the ex-Confederate majority. Although he was defeated in his gubernatorial bid, Etheridge's candidacy aided the movement that led to the overthrow of Radical Reconstruction in Tennessee in 1869. After one term in the state Senate (1869-71), Etheridge abandoned politics.



From 1891 to 1894, he was surveyor of customs in Memphis. Etheridge died at home in Dresden on October 21, 1902, and was buried in Mount Vernon Cemetery near Sharon.
Tools
Key Facts
Congressman loyal to the Union, broke with Lincoln over emancipation.
Aided the movement that led to the overthrow of Radical Reconstruction in Tennessee.