Forts Wright and Randolph
Location:
189 Ballard Slough
Drummonds, TN 38032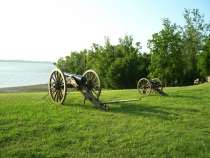 Two forts on either side of the Hatchie River in Tipton County, built in part by area slaves, served as training centers for new Confederate soldiers.
The village of Randolph played a significant early role in the Confederate defense of the Mississippi River. In April 1861 the state built training camps for the Provisional Army of Tennessee, established by Gov. Isham Harris. As part of Tennessee's new military alliance with the Confederate States of America, officials also authorized the construction of two forts (Fort Randolph and Fort Wright), on either side of the Hatchie River.

For several months, enlistees from across the state came to the forts to learn to become soldiers. Aided by slaves from the region, they built extensive earthworks and other fort structures; one brick powder magazine still exists at Fort Wright. Young men who had joined the infantry, cavalry, or artillery companies in their native counties assembled in these camps and were organized into regiments. One such private was Nathan Bedford Forrest, who began his military career here.

Col. John P. McCown and Maj. Alexander P. Stewart molded and drilled the enlistees at both forts into effective soldiers and produced enough skilled artillerists to man not only the batteries at Forts Randolph and Wright, but also to send to Confederate river defenses hear New Madrid, Missouri, later in 1861.

By 1862, both Confederate forts had seen most of their men and guns re-assigned to other positions. Later in the summer, Confederates abandoned the posts entirely. On September 25, 1862, a small band of Confederate guerrillas fired into the unarmed river packet Eugene, docked at the Randolph landing. No serious damage occurred but, in retaliation, U.S. Gen. William T. Sherman ordered the entire town of Randolph burned except for an old church and one dwelling.
Tools
Key Facts
Confederate soldier training camps
Nathan Bedford Forrest began his military career here
Abandoned by Confederate forces in the summer of 1862
Related