Armstrong-Lockett House & W.P. Toms Memorial Gardens "Crescent Bend"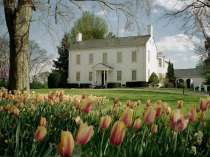 The Armstrong-Lockett House, built in 1834, is a southern antebellum home once the centerpiece of a 600-acre working farm. Named for its prominent setting overlooking a majestic crescent bend in the Tennessee River, it was meticulously restored in 1977 and furnished with eighteenth century antique furniture and artifacts.
During the Civil War, the house was used by both Union and Confederate armies as a command center and hospital. Thousands of soldiers encamped and fought on Crescent Bend farmland. The Union Army built an earthen fortification that wrapped around the house and provided a commanding view of the river and the pike leading into town.

On November 18, 1863, Union Brigadier General William P. Sanders was mortally wounded on Crescent Bend farmland, where Second Presbyterian Church now stands, and died the next day at the Lamar House downtown. It's believed that a Confederate sniper shot Sanders from the tower at Bleak House. The Union renamed its main Knoxville fortification Fort Sanders in his honor. In the days after Sanders' death, the Confederate Army advanced and captured Crescent Bend. The house became a command center for Confederate General Kershaw, in charge of the Confederate artillery that attacked Fort Sanders on November 29, 1863.

Crescent Bend is also noteworthy for possibly being a safe house on the Underground Railroad. Armstrong descendants have said that the hidden trapdoor beneath the main staircase led to a room where runaway slaves were sheltered.

During Reconstruction the Armstrong sons returned to Crescent Bend to raise their families and work their farm until they both died in 1896.

Crescent Bend is furnished with 18th century antiques, decorative arts, and an outstanding collection of English silver, circa 1569-1830. The formal Italian gardens include nine terraces, five fountains, magnolias, roses, and thousands of blooming flowers.

Crescent Bend has popular wedding venues: Convexi Holly Maze Garden, Roman Fountain, River Garden Terrace, and River Lawn, with two reception terraces overlooking the gardens and river.

Crescent Bend's facilities accommodate up to 250 guests. Crescent Bend events are customized, with all-inclusive services as well as the option to plan your own event. During our annual TulipTime Festival, 25,000 tulips bloom in the gardens; during the holidays, the house is adorned with traditional Christmas decoration. Crescent Bend creates a memorable occasion. Reserve an event at Crescent Bend House and Gardens help to preserve one of Knoxville's historic sites.


Tools
Key Facts
Built in 1834 and furnished with period antiques.
Formal gardens overlook the Tennessee River.
Used as a command center and hospital during the Civil War.
Union Brigadier General William P. Sanders was mortally wounded on Crescent Bend farmland.
Related