Lucy Pettway Holcombe Pickens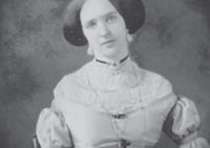 Known as the "Queen of the Confederacy," Lucy Holcombe Pickens was born in LaGrange, Fayette County, the daughter of Beverly Lafayette Holcombe and Eugenia Dorothea Hunt.

At age 13 Lucy and her sister were sent to a Quaker school in Bethlehem, Pennsylvania. She became interested in Cuban affairs and at age 17 published a book, The Free Flag of Cuba. After her fiancé was killed while fighting for the Cubans, she involved herself in social activities.

In 1856, while on an annual summer visit to White Sulphur Springs, Virginia, Lucy Holcombe met Colonel Francis Wilkinson Pickens, a lawyer and secessionist, twice widowed and twice her age. She reportedly promised to marry him if he would accept a diplomatic post and take her abroad. In 1858 he accepted an appointment as ambassador to Russia, and they were married at her home in Texas.

With her knowledge of French and Russian and her elaborate wardrobe, Pickens was soon a court favorite in St. Petersburg. Czar Alexander II and Czarina Maria showered the couple with gifts. The Czarina moved Lucy Pickens into the imperial palace and called in the royal physicians for the birth of her daughter Eugenia Frances Dorothea in 1859.

As the South moved toward secession, Colonel Pickens decided to return home and lend his support to the Southern cause. Shortly after his return, he was elected governor of South Carolina. Lucy Pickens joined the Confederate effort, selling jewels given to her by the Russian royal family in order to outfit the "Lucy Holcombe Legion." She became known as "Lady Lucy," and her likeness appeared on three issues of Confederate currency--the one-dollar bills of 1862 and 1863 and the one-hundred-dollar bill of 1864--making her one of the few women whose likeness has appeared on a national currency and one of the reasons she has been called the "uncrowned queen of the Confederacy."

Francis Pickens died in 1869 at his home, "Edgewood" in Edgefield, South Carolina. Lucy Pickens continued to live there, while managing three plantations with the help of her brother John, until her death in 1899.


Tools
Key Facts
Author and socialite who married diplomat and secessionist Frances Pickens.
Favorite in the court of Russian Czar Alexander II.
Sold jewels to support Confederacy and appeared on three issues of Confederate currency.
Related