The Tennessee Department of Tourist Development offers the "Retire Tennessee" program, which promotes Tennessee as an ideal place for retirees to call home.
The Retire Tennessee program consists of rural and urban communities across the state. Each community meets the state's criteria of providing the resources and amenities needed to be a viable retirement destination. Take a look at each community and you are sure to find one that you can call home.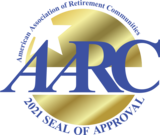 American Association of Retirement Communities
The AARC Seal of Approval program recognizes communities and developments that possess the resources and amenities to attract today's relocating retiree.